INTEGRA - Preparing for your studies and job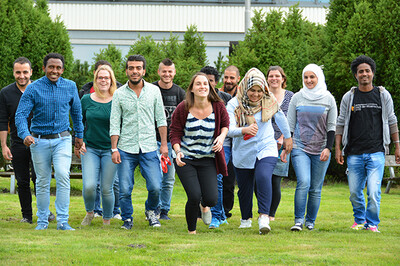 You have the necessary academic qualifications for studying in Germany, are interested in studying at the Jade University of Applied Sciences, are not yet enroled at a university and are a recognised refugee or have temporary admission? Then it is possible to take part in the Integra programme.
Integra is a bridging course that can be attended for one or two semesters, during which the chosen students will be prepared for their studies at the Jade UAS. The programme covers a variety of courses during its minimum of 24 semester hours (each week). The following courses are included: German courses (e.g. technical German and preparation for the TestDaF exam), courses on how to work academically and courses in intercultural competence.
Please note that the INTEGRA programme is currently only available at the Wilhelmshaven campus.
We want to:
help you prepare for your studies
help you integrate at university and in your daily life in Germany
help you prepare yourself for the German labour market
improving your language competences
strategies for self-directed learning
broadening your existing technical knowledge
make you sensitive towards intercultural differences between home and German cultures
communication and acting strategies in professional circumstances
What is the advantage of the programme?
the bridging year is a great opportunity to integrate on a social and academic level, e.g. through participating in student life
work towards you passing the TestDaF exam, which is an admission requirement for studying at the Jade UAS
you will have the opportunity to begin or continue your academic career in Germany
first steps to achieving a German university degree (Bachelor or Master)
support through mentors
learning of key qualifications, such as competences in communication, decision-making and responsibility
What does the application process look like?
individual consultation; putting together you educational biography
state of knowledge regarding language and technical topics
if you are accepted: putting together your individual timetable
Which documents are needed?
CV (in German or English) including a photo
short motivational letter (in German or English)
copies of all your certificates (if possible in German or English, otherwise in your mother tongue)
proof of language proficiency in German, at least B1 level
residence status document
Please contact Nele Hellmold via e-mail or telephone and make an appointment to discuss how to proceed with your application.
INTEGRA is financed by the Federal Ministry of Education and Research.