Integra - Course offerings for refugees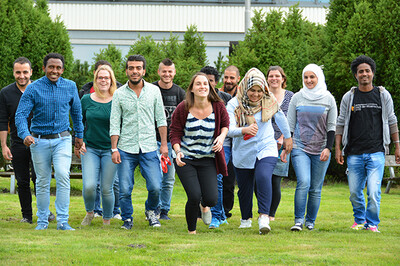 Within the program "Integra", refugees who are eligible to study receive support before and during their studies at the Jade University of Applied Sciences. The goal of the program is, on the one hand, to give students and prospective students orientation on their way to the university and in the course of their studies through counseling services. On the other hand, various courses and workshops that prepare students for and accompany their studies are also intended to facilitate their integration into the city and the university and to increase their success in their studies. Last but not least, these measures also build a bridge to the German labor market. If you wish to receive advice on any aspect of your studies, the International Office will be happy to assist you.
Course offerings
Till December 31, 2022, the International Office of Jade University offers a newly established German intensive course for refugees. The course is open to all refugees from Ukraine (regardless of their nationality) who are interested in studying at Jade University. All other people with recognized refugee status and interest in university studies are also welcome.
The course consists of 24 lessons per week and takes place from Monday to Friday in presence at the Wilhelmshaven campus.
If you have any questions about the course, please contact Jane Fischer (contact person for German course offerings) or Ilze Peksa (contact person for refugees).