UNDERGRADUATE CO-OP STUDIES PROGRAM IN ECONOMICS (DUAL)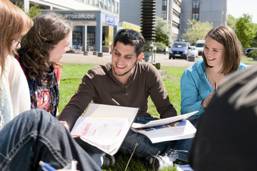 Courses of study / Modules
The following information is devoid of guarantee and is subject to change.
Basic required coursework is usually elected in first three semesters. Besides gaining competency in business administration, combinations of further modules are taken, in particular, analytical and methodological modules as well as foreign languages, business law and management competency. The fourth semester is purely set aside for practical training. Parallel to this, students get vocational certification from the local chamber of commerce after just four semesters.
Students begin the advanced studies phase in the fifth semester in which they start choosing their majors. The fifth and sixth semesters are rounded off by required courses in (macro)economics before the students complete their second practical training phase in the seventh semester.
Finally the study program ends in the eighth semester by writing the Bachelor's thesis based on the practical orientation at a firm. The eighth semester also serves to further professional and occupational competencies. Upon successfully completing relevant teaching modules, there is also the possibility of taking an exam at the chamber of commerce and becoming a certified training officer. Should all of the coursework be completed successfully, the academic title, 'Bachelor of Arts' degree is then conferred.
Coursework
Hier finden Sie eine detaillierte Aufstellung des Studienverlaufs, inklusive der Modulbeschreibungen.