Summer School "International Shipping and Maritime Logistics" Aug. 29th – Sept. 16th
Registration deadline: 31. May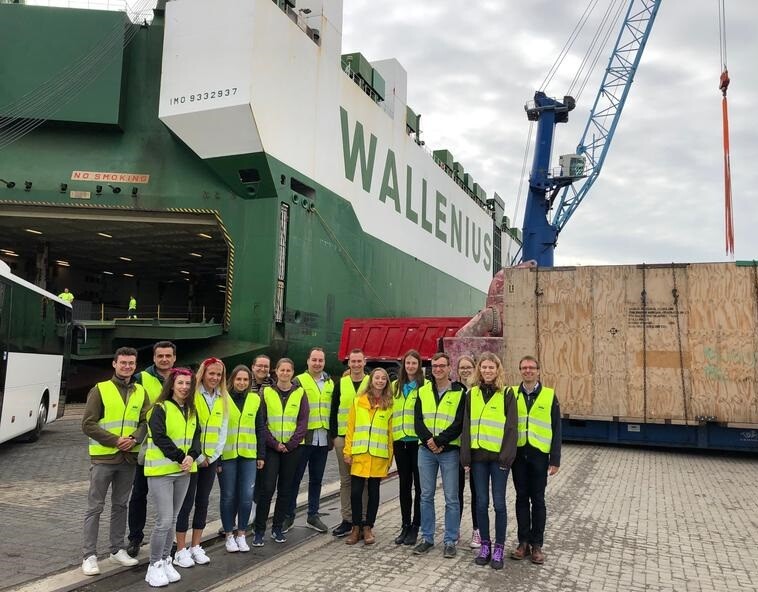 The summer school "International Shipping and Maritime Logistics (ISML)" is planned as an intensive course from August 29th to September 16th on the Elsflether campus.
The offer is aimed at foreign students from our partner universities and also at students in the department of maritime and logistic studies in the business and nautical bachelor's degree courses from the third semester of a bachelor's degree or higher. The program also addresses hautical and business students who plan to complete a master's degree in Maritime Management at the Jade University in the near future.
The course language is English. Courses are offered in English in various subject areas, which together have a scope of 6 ECTS points and can therefore also be credited to the regular curriculum at the participating partner universities.
In addition to the courses, an extensive excursion and trip program is planned. Excursions to the Meyer shipyard in Papenburg, to the container and ro-ro terminal in Bremerhaven and to SMM Fair in Hamburg are in preparation; Excursions to Helgoland and Hamburg may also be on the program.
Key features & finances
BSc. study level (2nd year or higher)
Up to 6 ECTS credits can be acknowledged by the home university
Three weeks intensive classes in English language
Group of 15-20 participants from Germany and abroad
International students and lecturers from Szczecin / Poland and Rijeka / Croatia
8 contact hours (Monday-Thursday)
Field trips to partner companies on Fridays
Cultural program on weekends
24 hrs / day friendly, confidential and one-to-one counselling provided by a special-established mentors team
Course fees sponsored for a limited number of students by DAAD
Accommodation available in the students hostel Marikom directly on Campus
A twin-bed room costs about 25 € / pers. / night
Free WiFi
Meals in the hostel cafeteria cost about 16 € / day (half-board or only breakfast is also possible)
Events & Activities
Regular lectures and guest lectures (whole group)
Case studies, case assignments & industry examples / Simulation or project sessions (small groups)
Field trips to partner companies: SMM Hamburg; Mercedes-Benz factory, Bremen; Meyer Shipyard, Papenburg; Car-Container Terminal, Bremerhaven; Crane simulator & Rescue Training Centre, Elsfleth
Opening ceremony – official welcome
Welcome party, International Food Festival, City of Elsfleth walking tour
City guided tour in Oldenburg
After-class cultural & social activities (German lessons, visit to Maritime Museum, Archery, Water sports, Geocaching, Cinema etc.)
Courses
Area 1: Maritime Technologies
Concept Design of a Project Ship
Communication networks in maritime logistics
Coordination: Prof. Dr.-Ing. Laurentiu Chiotoroiu (laurentiu.chiotoroiu@jade-hs.de)
Area 2: Maritime Port Logistics & Operations
Port Strategies and Cargo Handling Technologies
Coordination. Christian Jauernig M.Sc. (christian.jauernig@jade-hs.de)
Area 3: Logistics & Maritime Analytics
Transport Chain Simulation
Statistical Properties of the Seaway
Coordination: Prof. Dr. Andreas Stern (stern@jade-hs.de)
Overall coordination:
Christian Jauernig
christian.jauernig@ich-will-keinen-spamjade-hs.de
Please send your application with a letter of motivation in English
to Mr. Jauernig.