German summer course 2023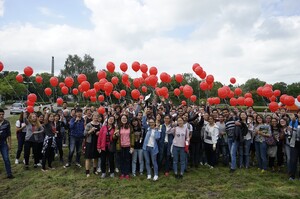 The best place to learn German is in Germany! That is why, for the 25th time, the Jade University is offering a German Summer Course from July 31st until August 25th 2023 in Wilhelmshaven.
During the course the students can improve their German language skills working in small groups under the guidance of professional language teachers. After completing the course, every participant will receive a certificate of participation. The course equals 6 ECTS.
This course is particularly suited to those who are planning to study in Germany, but also for anyone who would like to improve their German language skills. Minimum age: 18 years.
At the beginning of the course every participant will need to take a test so they can be placed in the course best suited to them. Once you have been allocated to a group, your days will consist of five hours of lessons in the morning in those small groups. In the afternoons, we will put into practice what you were taught in the mornings. It is our aim to help you improve your communication skills –
Five hours of lessons take place in small groups each morning. The afternoons are used to put theory into practice. Placement tests are first conducted in order to find the right course for each participant.
It is our goal to train the participants' communicative skills: everyday conversations are practiced to train pronunciation, improve listening skills and use correct grammar. Various cultural topics are worked out in projects or in presentations.
In the evening and on weekends there is a colorful leisure program:
Welcome barbecue
Excursion to a big city
Day trip to Heidepark Soltau - northern Germany's largest amusement park
Sports activities (volleyball, soccer, climbing park)
Visit to the brewery in Jever
Mudflat hike
Mountain party
Farewell party
At the end of the course students will not only have deepened their knowledge of Germany andits culture, but also will have become much more competent with German and will have made manynew friends!
The fee for the course is 580 Euro (*).
Students of our partner universities who plan to study at Jade University of Applied Sciences after the course can participate for 290 Euro.
* The fee includes cost for lessons and partly costs for the fieldtrips. Not included are expenses for housing and meals.
The registration fee of 120 Euro must be paid upon registration. The remaining amount must be transferred 4 weeks prior to the beginning of the course.
We support you if you prefer to search for private accommodation in Wilhelmshaven, for example on facebook.com or wg-gesucht.de.
If you would like to stay over night together with other participants in a maritime atmosphere on the ship Arcona, we are happy to take care of the booking for you. The cost for 4 weeks in a 2 or 4 bed room incl. breakfast and bed linen is 525,00 Euro per person. The number of beds is limited.
All participants are responsible for their own board over the four weeks. Per weeks one might need about 30 to 50 Euro.
By car
Take the A29 towards Wilhelmshaven
Leave the motorway at exit 3: Wilhelmshaven - Coldewei - Altengroden - Maadebogen.
Turn left, following the signs for the town centre (Stadtmitte) and University of Applied Sciences (Jade Hochschule).
Drive straight ahead over the second (major) traffic lights across Kurt-Schumacher-Straße towards the town centre.
Take the next left onto the University of Applied Sciences campus.
By rail/bus
The railway station is in the centre of town.
Take bus No. 3 from the central station (ZOB Zentraler-Omnibus-Bahnhof) going to "Klinikum Wilhelmshaven/Jade Hochschule" and get off at the final stop "Klinikum Wilhelmshaven/Jade Hochschule"
or
Take bus No. 4 from the central station (ZOB Zentraler-Omnibus-Bahnhof) going to "Johann-Sebastian-Bach-Straße" and get off at the stop "Klinikum Wilhelmshaven/Jade Hochschule"
or
Take bus No. 6 from the central station (ZOB Zentraler-Omnibus-Bahnhof) going to "Voslapp Süd" and get off at the stop "Klinikum Wilhelmshaven/Jade Hochschule"
Useful links
Campus map
Wilhelmshaven street map (www.wilhelmshaven.de)
Wilhelmshaven street map at GoogleMaps
Public transport: Stadtwerke Verkehrsgesellschaft Wilhelmshaven
Transport union - Verkehrsverbund Bremen Niedersachsen
Car-sharing agencies: mfz.de, mitfahrzentrale.de, drive2day.de
Please sign-up to participate. The registration deadline is 16th June 2023.
Please contact Ilze Peksa in case you have further questions.
Photos of previous courses