International Summer Schools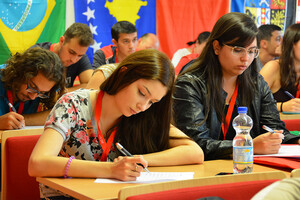 You're not quite if a full-time degree programme or a semester abroad at the Jade University of Applied Sciences is the right thing for you? The International Office also offers International Summer Schools for international and German students.
The International Office organises a Summer Courses for international students especially. These German Intensive Courses are ideal for prospective students from abroad who, over the course of three to four weeks, will not only substantially improve their level of German but also have the opportunity to take part in a number of cultural events, such as a welcome party, a city trip, free concerts, and many. The course is particularly suited to you, if you would like to spend your semester abroad at the Jade UAS.
However, if you are planning on studying full-time at the Jade UAS, we recommend that in addition to our German Summer Course, you also take an intensive course at a language school or institute for several months. That way you will be sure to achieve the advanced level of German needed to enrol at the university.
Furthermore, the Department of Engineering and the International Office cooperate on organising a Biomedical Engineering Summer School every year in the late summer, which you can register for as well.
You can find all of the Jade UAS'sInternational Summer Schoolshere.