International Maritime Management (M.Sc.) - distance education
Have you studied or worked in Nautical, Maritime or Logistical fields?
Do you want to boost your career and expertise by studying flexibly?
International Maritime Management (IMM) is a distance education course tailored to your individual needs. Whether you want to taste a module, several, or the entire course, our Master of Science is highly flexible in content, scope and pace.
Key Facts about International Maritime Management (M.Sc)
Target Group
Nautical Officers
Junior Managers
Degree
Master of Science (M.Sc)
Study Start
March and September
Duration of Study
Flexible, individual approach
8 modules / 90 CP
Prerequisite
Bachelor degree or similar
1 year professional experience
Study Concept
Distance education
Online study
Place of Study
Worldwide, even on board
Tuition Fees
abt. 8,500 Euro

You can start to prepare yourself to study International Maritime Management. Contact us any time in order to prepare your application.
Admission requirements
The requirements for the application are as follows: You have…
… a bachelor's degree or equivalent
… professional experience of at least one year
… acquired the bachelor's degree or the practical experience in a maritime/logistics context
… appropriate English skills
Application
Our semesters begin in March and in September, but you can contact us or apply when it suits you best.
The application period for the summer semester (starting in March) is from 1 December until 15 January.
The application period for the winter semester (starting in September) is from 1 June until 15 July.
If you have acquired your Bachelor's degree in Germany, then apply via the eCampus of the Jade University.
If you have acquired your Bachelor's degree outside of Germany, then apply via uni-assist. (uni-assist is a German association that evaluates international student applications for many German universities.)
To prepare your application, please see also the list of required documents.
Testsemester
Would you like to test the study course for one semester?
Apply as a guest student and study any module you like. Contact us for further information.
Preparation of your studies
Start your studies by reading the guideline how to study IMM successfully.
Regulations
International Maritime Management …
… is flexible in time
IMM lets you choose how many learning modules you want to study each semester. You are also welcome to interrupt your studies should professional and/or private duties prevail. Most students study five semesters part time to complete their IMM studies.
… can be studied anywhere you want, even on board your ship
IMM is mainly based on distance learning which means most modules are completed by handing in home assignments. Even if the concept of our degree course does not include any mandatory on-campus times, we strongly recommend attending the kick-off event at the beginning of your studies. However, participation is not compulsory.
… integrates your professional interest
IMM follows a learner-centred approach which means that you acquire theoretical knowledge by means of course books. These didactically prepared texts enable you to combine existing professional knowledge with new academic knowledge. For this purpose, real-life projects and cases arising from your own professional contexts are processed and solved; theoretical and practical issues go 'hand-in-hand'. During the learning process, you will apply new methods and exchange ideas with your peers by means of student forums. Guidance/support is provided by us – your lecturers.
In the following figure, you can see three of endless possibilities to combine IMM studies with different personal situations (professional life, family and friends)
Further reading
We hope that we can offer you an exciting, challenging and successful distance-learning program that meets your needs. Here you can find the complete study text of the "Academic Research Methods" learning module to get an overview of the concept. If you have any questions, please contact us by e-mail.
Modules
The given structure of the module order is a recommendation and can be varied as needed.
| | |
| --- | --- |
| 01 Academic Research Methods | 6 LP |
| 02 Enterprise Information Management | 6 LP |
| 03 Environmental Management in Maritime Transport | 12 LP |
| 04 Human Factors | 6 LP |
| 05 Maritime Business and Logistics | 12 LP |
| 06 International Maritime Law | 6 LP |
| 07 Projekt Management and Leadership | 12 LP |
| 08 Master Thesis | 30 LP |
You can find detailed information about all modules in the module handbook.
Recognition of competencies
Do you work in a junior management position in the maritime industry at sea or ashore and have you already gained professional experience and individual key qualifications?
Have you already passed examinations and gained credits at another university on an equal level?
Jade University recognizes existing skills and prior learning so that you do not have to re-study the same things. Duration and costs of your studies can be reduced accordingly.
What can be recognized?
1. Achievements acquired at other universities on post-graduate level.
2. Competences acquired outside higher education institutions, especially in the context of your professional career.
General recognition: The Human Factors learning module will be credited by proving a one year working experience as Chief Mate or Second Engineer and on submission of the Certificate of Competency unlimited according to the STCW.
Individual recognition: Modules can be credited based on the individual biography. The basis is a documentation or comparison of the intended and already acquired learning outcomes according to the module descriptions.
Please find further information in our Guidelines for the Recognition of Competences Acquired at or Outside Universities on the Continuing Education Programme International Maritime Management (M.Sc.)
International Maritime Management …
… qualifies you to work your way up on the 'job ladder'. You will be qualified to be promoted to an upper management level in maritime companies (e.g. shipping companies, terminal operators, consultancies, maritime banks and insurers, etc.) or in the public administration sector.
… enables you to carry your personal interests into effect, e.g. a change from a ship-based to a shore-based workplace. Others include obtaining the M.Sc. degree in order to work in the public administration sector or to proceed with doctoral research studies.
… ensures you to improve your key skills in terms of self-management, decision making, analysing and presenting key information with words and in writing. This is achieved as IMM is based upon problem-based learning and includes your business-related issues as well as your professional experience into your studies to achieve practical value and mutual benefits. Moreover, it is offered completely in English language.
Your Qualifications after Graduation
Upon completion of the co-operative work and study programme of International Maritime Management M.Sc., you will possess …
… ample and up-to-date knowledge about the maritime economy and international maritime law. The knowledge acquired during your under-graduate studies will be enhanced and extended,
… competencies which allow you to manage maritime projects. These competencies will be a major focus of the Case Studies learning units whereby you will autonomously develop problem-solution skills under consideration of societal, economic and ethical aspects,
… skills to interpret, assess and present results, key indicators and models. In presentations, you will demonstrate your ability to draw conclusions from current research and applied solutions and to communicate your conclusions and the pertinent information basis to an expert and lay audience,
… the capability to reflect on experience acquired in your professional environment in a thoroughly academic manner. Upon completion of your studies, you will be able to relate academic findings with issues that arise from your own professional area in an inter-disciplinary manner,
… skills to organise your own life-long learning process. Upon completion of your studies, you will be able to acquire knowledge and skills autonomously and to apply these to your own professional environment, and
… a comprehension of the demands and possibilities of inter-cultural relations and international co-operation. You will study in heterogeneous teams and demonstrate your ability to assume responsibility in an inter-cultural work environment.
Would you like to qualify yourself further according to your individual needs and adapted to your professional context?
Or would you like to educate your staff in a specific area?
Jade University offers Certificates of Academic Achievement as individual further education for participants who are not interested in studying the entire Master study course of "International Maritime Management".
Certificates of Academic Achievement
All modules of the IMM programme are self-contained units and can be studied individually. The scope is 6 credit points or 12 credit points according to ECTS; the Master's Thesis learning module is excluded.
The modules you have studied can be credited to IMM later and cumulated to a degree (M.Sc.), if required.
For further information on the offered certificates, please contact us or send us the filled application form for admission as a guest student.
Should you have any questions related to the Master degree course IMM or to the offered certificates please send us an email or call us during the German office hours. We will do our best to support you before, during and after your studies.
Study Course Advisory Service and Management
Stimmen über International Maritime Management

"I really enjoyed the IMM course. I completed studies relevant to my career at my own pace. This was very important as a ship master of a Ro-Pax ferry on a busy short sea route arriving and leaving port eight times daily. The M.Sc. was a significant factor in my early promotion to Senior Master. Highly recommended to any who wish to further their career prospects in a short period."
Paul - Captain of a Ro-Pax ferry, Ireland

"I highly appreciated the flexibility of the study program, which gave me the opportunity to study from all over the world. The curriculum comprises a wide range of knowledge for anyone working in the management of a maritime company and is an excellent complement to any practical maritime education. The course material provided was very helpful and the support of the tutors was extraordinary."
Anna - Lawyer for Maritime Law and Insurance Law, Switzerland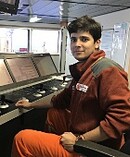 "IMM is an excellent opportunity to compile my experiences as a seaman with the will to transform ideas into research. The flexibility of being able to study, research and work, has been one of the strengths of this Master Course. The university has given the tools for seafarers to develop their creativity. The Jade Elsfleth team had an excellent initiative. It's a pleasure to be part of Jade's team."

Arthur - 2nd Mate, Dynamic Positioning Operator, Brazil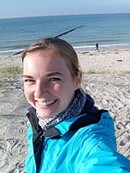 "I am studying IMM in order to gain qualifications next to my job and being a mom. This study course enables me to reconcile job, family and education and helps me to foster my professional network by various group works. My personal goal is to find a new job with new challenges by this master's degree."
Claudia - Youth Information Officer, German Navy

"I was attracted by the different IMM modules, because they perfectly fit my needs. Studying in parallel to my job, family, and other activities was hard work sometimes, but it was worth the effort! Just before finishing the last test, I received a new job offer due to the study course!"
Britta - Assistant to Managing Director, Germany

"What I love about the IMM programme is its flexibility. I can decide myself when I want to study and easily combine my work routine and personal life with it. Besides, I can study from wherever I am. If I want to interact with fellow students or professors, all I need is an Internet connection."
Fillip - Logistics Service Coordinator, Brazil

"I really enjoyed studying IMM, particularly due to its flexibility and the focus on the practical, professional aspects of management in the marine industry. The course allowed me to gain a broader and more business oriented perspective on the sector and its stakeholders, and it surely was also a key factor in my assignment as Director of the Swiss Maritime Navigation Office (SMNO)."
Roger - Swiss Maritime Navigation Office, Switzerland
The degree course is accreditied by ZEvA and certified according to ISO 9001:2015.