Library catalogues and portals offer large amounts of scientific information in a structured and easily searchable form.
Depending on your research question, you can select local, regional, national or even international catalogues for your research. Meta-catalogues and portals allow you to search simultaneously in a large number of sources.
Local and regional catalogues
Search Portal ORBISplus - Libraries of the Jade University of Applied Sciences
ORBISplus is the joint search portal of the libraries of the Jade University of Applied Sciences, the University Library and the Oldenburg Regional Library.
In ORBISplus, a uniform search interface allows you to either search the entire printed and electronic holdings of all participating libraries or limit your search to the offerings of a single library.
The university library has currently licensed more than 90,000 e-books, 30,000 e-journals and about 160 special databases which are completely referenced in the search portal and made available to university members and staff in the campus network free of charge.
Please select "Libraries of Jade University" in the library selection of ORBISplus. You can then access full texts of e-books, e-journals and articles available for Jade University in the campus network.
For legal reasons, you cannot access electronic holdings licensed by the other participating universities.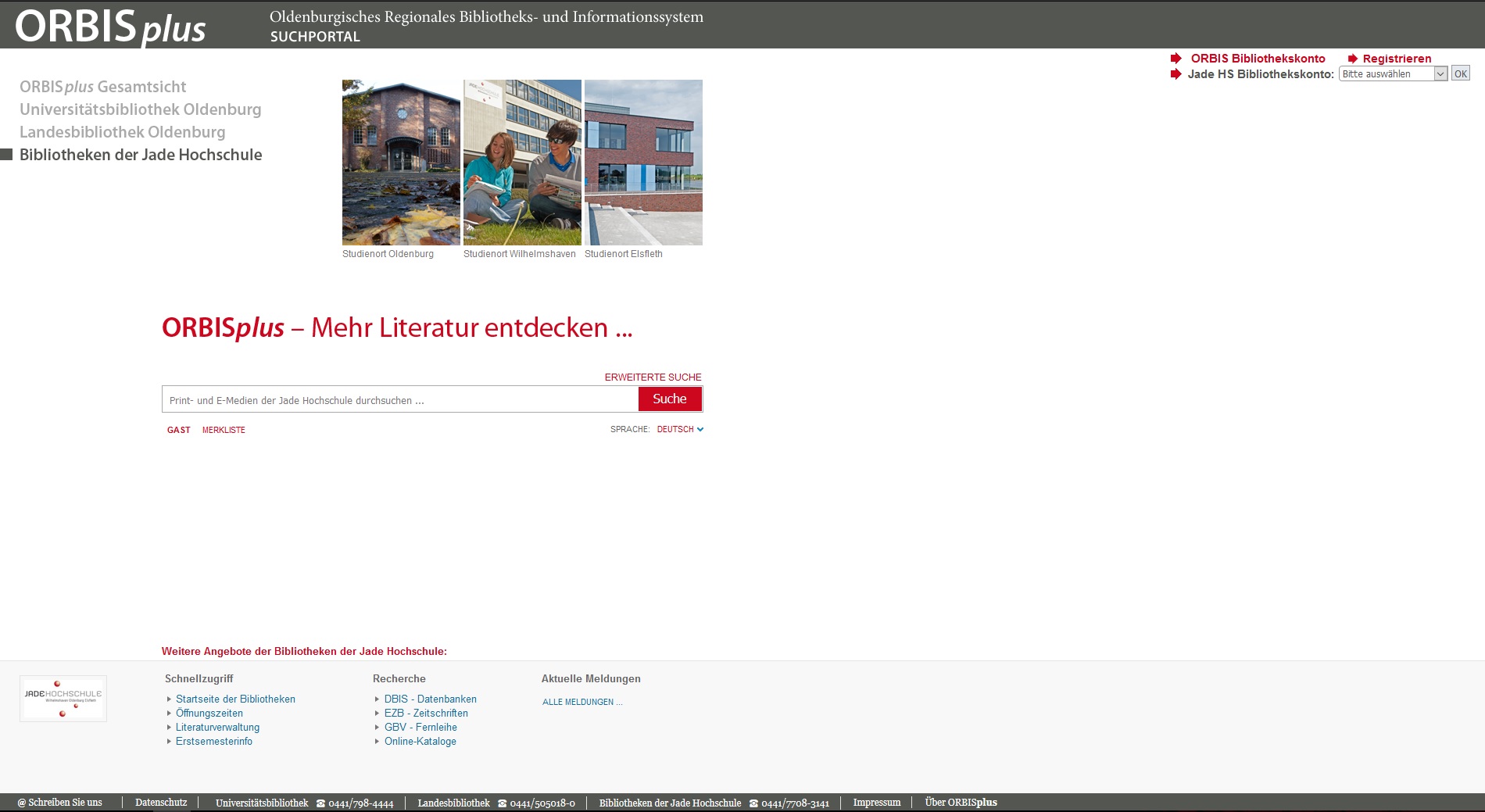 Local Library System Northwest
Via the Local Library System Northwest you can search the conventional OPACs (Online Public Access Catalogue) of the Jade University of Applied Sciences and also catalogues of other regional libraries and institutions.
National and international catalogues
GBV Union Catalogue (GVK)
The GVK is particularly relevant for interlibrary loans. You will find more than 40 million titles from 530 libraries in Bremen, Hamburg, Mecklenburg-Western Pomerania, Lower Saxony, Saxony-Anhalt, Schleswig-Holstein and Thuringia as well as the Staatsbibliothek Preußischer Kulturbesitz. The majority of print titles and articles from print journals listed there can be ordered to your campus library via our interlibrary loan service.
Karlsruhe Virtual Catalogue (KVK)
The Karlsruhe Virtual Catalogue offers you an even larger number of source references. The KVK is a meta search engine that allows you to search for media in more than 500 international libraries and book trade catalogues.
In principle, you can also order titles from foreign libraries via interlibrary loan.
The central libraries for economics and medicine have developed specific search portals. In addition to the respective library holdings, make relevant German and international special databases can be searched via a uniform search interface:
EconBiz – Find Economic Literature
Livivo – The search portal for the life sciences
BASE – Bielefeld Academic Search Engine provides access to international scientific web documents, most of which are Open Access.
You will be redirected from the portals to titles licensed by Jade University.